There are many appealing things about living in the sunny state of California: gorgeous year-round weather, beautiful beaches perfect for outdoor sports, a laid-back lifestyle, and access to some of the hottest tech jobs. When moving to California, many people gravitate toward the iconic city of San Francisco. However, the hip city of Santa Cruz has a lot to offer residents too!


Santa Cruz is a quintessential California beach town yet isn't as crowded as San Francisco. Because of the city's smaller population, residents can enjoy all of the standout qualities that the Golden State is known for but in a more relaxed environment. From its happening downtown area to its ideal locale, here are the top five reasons to live in Santa Cruz instead of San Francisco.
All the reasons to love Santa Cruz
Beautiful beaches and parks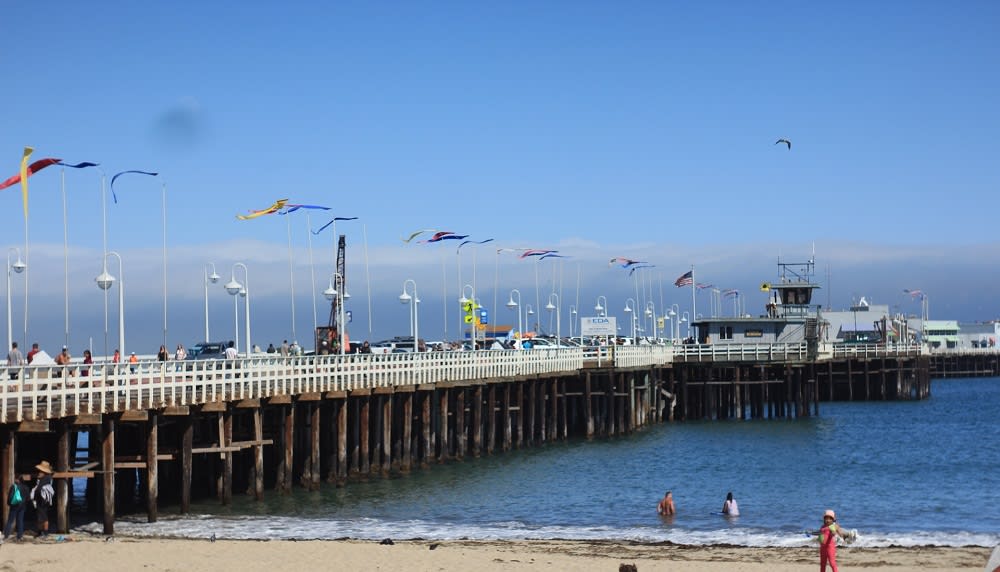 The city of Santa Cruz is home to
jaw-dropping beaches and parks
that aren't as crowded as those in San Francisco. The area has nearly 30 miles of coastline and about 14 green spaces for residents to enjoy. The beach's soft sands make their way to clear blue waters, and many are surrounded by magnificent jagged cliffs. Parks are well kept and feature towering redwoods and meandering rivers. Santa Cruz has dazzling sunsets that make the city's natural landscapes even more beautiful!
Santa Cruz has an abundance of picturesque beaches to explore.
Santa Cruz Main Beach
— also known as Boardwalk Beach — is the area's most popular oceanfront due to its lovely scenery and fun attractions. The beach connects the Santa Cruz Beach Boardwalk, Santa Cruz Wharf, and San Lorenzo River for the perfect blend of tranquility and amusement.
Davenport
is another local favorite, featuring rocky bluffs and panoramic vistas of the Pacific Ocean.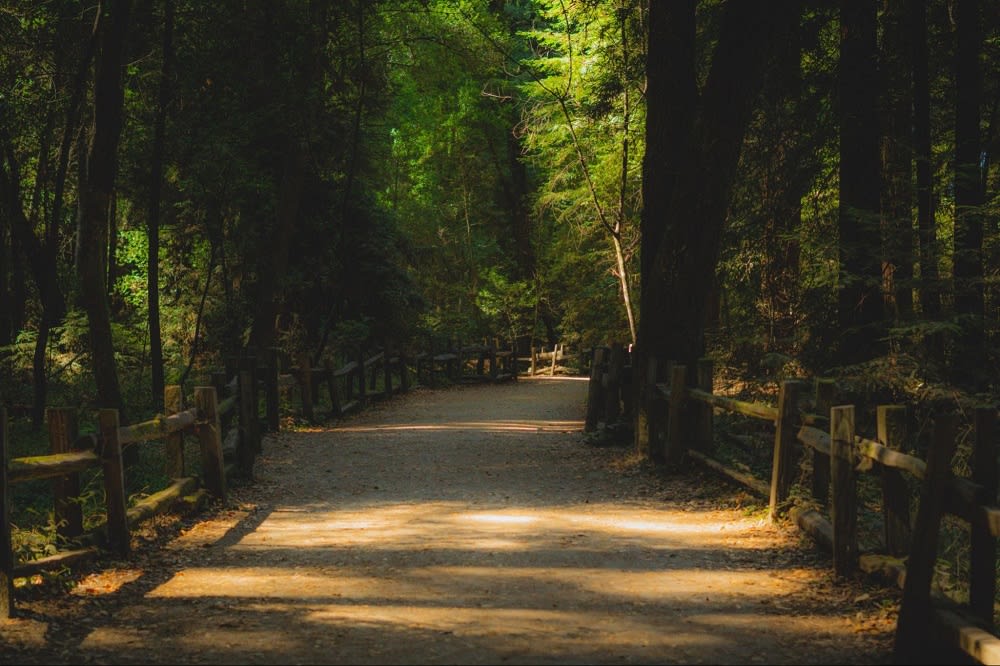 Santa Cruz residents love hiking the area's immaculate parks as well.
Henry Cowell Redwoods State Park
has an easy one-mile hiking trail that goes through a forest of redwood trees. For a more challenging trek, there's the six-mile
Pipeline Road Trail
that runs along the San Lorenzo River.

Hip downtown and boardwalk areas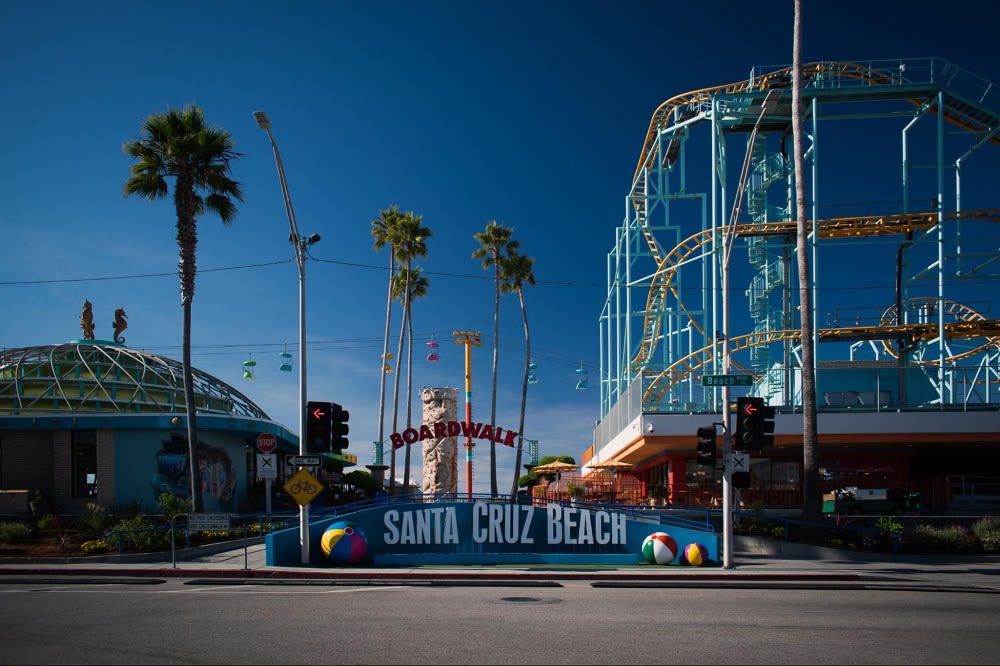 Although smaller than downtown San Francisco, downtown Santa Cruz is bustling with liveliness. Much of this can be attributed to the University of California, Santa Cruz, which has brought youthful energy to the city. In addition, the Santa Cruz Beach Boardwalk is a celebrated landmark full of exciting thrills.
Downtown Santa Cruz
offers a chic city center where you can delight in fine dining and upscale shopping. Following the San Lorenzo River, this downtown area comprises quaint waterfront restaurants and boutiques. Must-try food includes authentic dishes at HoM Korean Kitchen and traditional Hawaiian bites at Hula's Island Grill. Cafe Delmarette is the spot for flavorful coffees and pastries if you have a sweet tooth. There are plenty of trendy bars in downtown Santa Cruz too. Birichino is a tasting room serving the best wines California has to offer, while Lúpulo is a Mexican-inspired craft beer house. Shopping in downtown Santa Cruz consists of high-end local boutiques.
The
Santa Cruz Beach Boardwalk
is another fun hangout spot and a major draw to the area. Here, you'll find a terrific amusement park, largely considered the best seaside park in the world. There are countless rides, games, shops, and food and drink booths on the luminescent boardwalk. Plus, it is just steps away from the spectacular beach!

Excellent outdoor recreation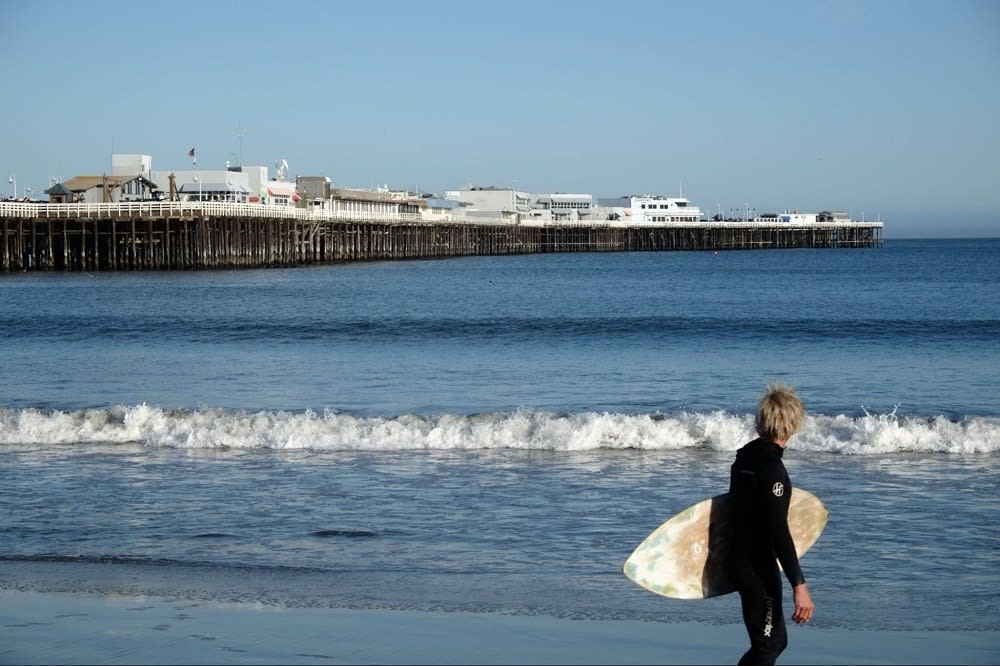 Santa Cruz's miles of coastline and numerous green spaces provide residents with many more
outdoor recreation options
than in San Francisco. From water sports to wildlife adventures, outdoor activities in Santa Cruz are excellent. California's year-round gorgeous weather makes enjoying nature that much easier.
The
beaches in Santa Cruz
are perfect for volleyball, swimming, kayaking, and surfing. Steamer Lane — also known as "the Lane" — is famous for its epic surf breaks. And many of Santa Cruz's beaches are dog friendly! Other fun recreational pastimes include mountain biking throughout the Santa Cruz Mountains and fishing off the Santa Cruz Wharf.
Santa Cruz also has many
wildlife adventures
to partake in. There are fantastic sea excursions provided by Santa Cruz Whale Watching, during which you can look for majestic marine life. You can also observe the elephant seals at the Santa Cruz Wharf. Many of the town's state parks are great for birdwatching as well.

Laid-back lifestyle
Santa Cruz's smaller population and oceanfront locale have given it a more laid-back vibe than San Francisco's busy city life. Many residents describe Santa Cruz as a serene oasis that offers the ultimate coastal lifestyle. Not only do you get the quintessential California beach experience, but you don't have to deal with overpopulation.


Santa Cruz has an undeniable small-town charm, and the people here are friendly. Residents care about the community and take pride in maintaining the city's allure. Since it is situated on the coast, Santa Cruz's atmosphere is casual, and life here is unhurried. The city is considered a great place for families who desire an easygoing lifestyle. So if you're looking to move to a tropical environment known for its worry-free bliss, Santa Cruz may be the place for you.
Ideal locale
Situated on California's Central Coast, Santa Cruz is
conveniently located
alongside breathtaking beaches and mountains. However, this coastal city is near the innovative hub of Silicon Valley. The commute is less than an hour, providing residents access to a wide range of jobs at highly coveted tech and startup companies. Therefore, Santa Cruz is an
ideal place
for professionals who desire to live in a residential area with plenty of outdoor recreation yet still want to be within driving distance of global companies.
Get to know Santa Cruz real estate
Are you thinking about moving to the laid-back beach town of Santa Cruz, California? Get in touch with real estate professional
Daniel Oster
to discover scenic Santa Cruz homes for sale. Daniel is a determined, experienced, and ambitious real estate agent who will help you secure your next
luxury home in Santa Cruz
.